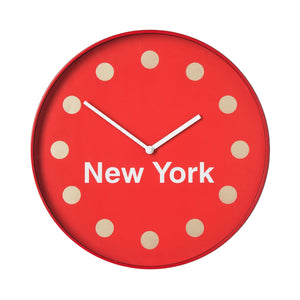 Contemporary in design, practical in use, our stylish Red, Cream and Black New York, London and Paris wall clock will make a wonderful feature in your bedroom, dining room or living space.
Made using durable glass, the clock is given a colourful finish that will add a vibrant look to your room. Accentuated against the clock face are hands in crisp colours and round circles in grey that represent each hour making it easy to read, even at a glance.
Cream 'New York, London' & red 'Paris' text adds a touch of chic to the design of the clock. Better late than never, but never late is better, our round wall clock will stand the test of time.
�_
Features: Red New York, Cream Paris and Black London contemporary design.