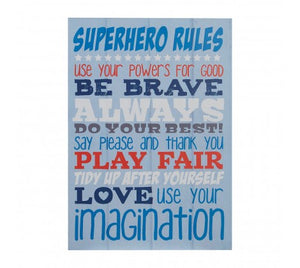 A charming reminder of how to be a superhero, the Kids Super Hero Rules wall plaque will make an enchanting addition to their bedroom. Made from durable blue MDF, the plaque features several rules on being a superhero including 'Use Your Powers For Good', 'Be Brave', 'Use Your Imagination' and much more. Each phrase is in a different colour and font, so it will look fantastic on the wall. Easy to affix to the wall, the Kids Superhero Rules plaque will make a wonderful decorative addition to their room.
Features:
Decorative feature.

Durable.

Easy to hang.

Complements most decors.

Fantastic focal point.